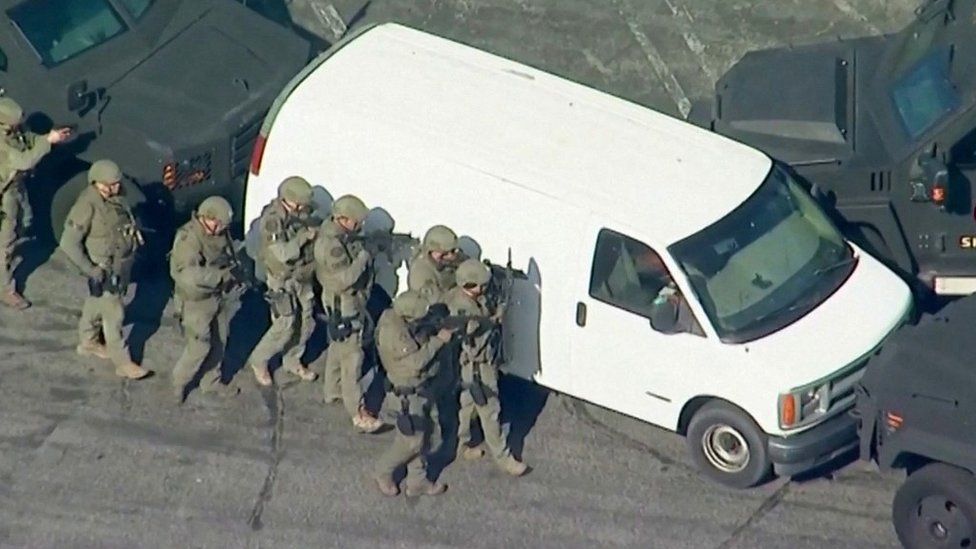 Calfornia police have identified the suspected killer of 10 people in a ballroom dance studio near Los Angeles as Huu Can Tran, 72 years, who was later found dead in a white van.
He had a self-inflicted gunshot wound and was declared dead at the scene, LA County Sheriff Robert Luna said.
The mass shooting, one of the deadliest in California's history, began at around 22:22 local time on Saturday (06:22 GMT on Sunday) at the popular Star Ballroom Dance Studio in Monterey Park, about seven miles (11km) east of central Los Angeles.
Police Chief Scott Wiese said that what his officers found was a "scene of carnage", and that the first officers to get there were some of the youngest on his squad, having only just finished their training a few months ago.
"They came across a scene none of them have prepared for," he said. "There were injured people inside and dead people inside. My young officers did their job."
About 30 minutes later, the gunman arrived at another dance studio in the nearby town of Alhambra.
He entered the studio, but two people managed to wrestle the weapon off him – a semi-automatic assault pistol with an extended magazine – and he escaped.
Sheriff Luna said he believed the weapon was illegal in California, although added he needed to investigate that further.
He praised the "two community members, who I consider to be heroes. They saved lives, this could've been much worse," the sheriff said, adding that he believes Tran intended to kill more people.
Just before 13:00 local time (21:00 GMT) – about 12 hours after the shooting – a SWAT team swarmed a white van in a carpark in Torrance, about 30 miles (48km) from the Monterey Park shooting scene.
Sheriff Luna said they heard a single shot from inside the van as they approached, and then found the suspect slumped over the steering wheel. Evidence including a handgun was recovered, and the man was identified as the gunman.