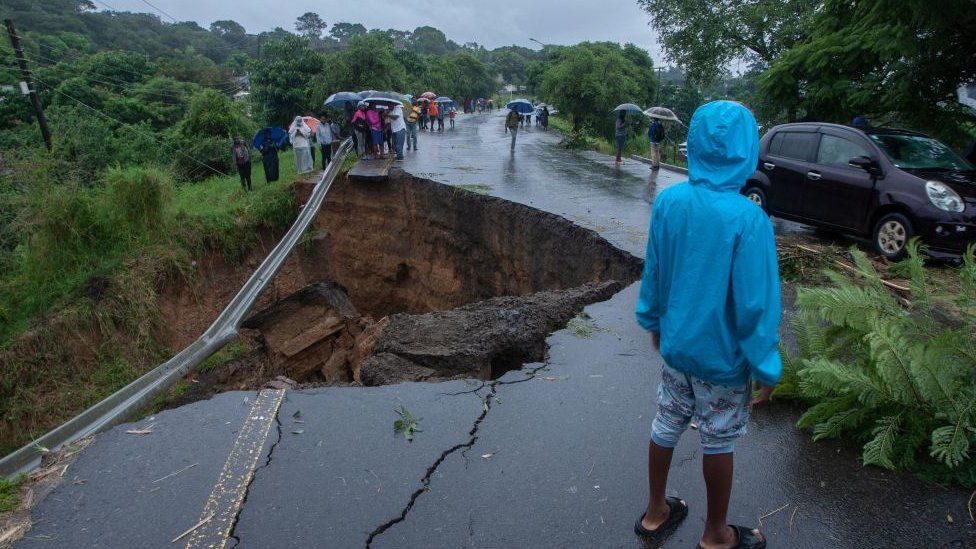 Atleast 190 people have been confirmed dead in Malawi after Tropical Storm Freddy ripped through southern Africa for the second time in a month.
Terrifying amounts of brown water have cascaded through neighbourhoods, sweeping away homes.
Malawi's commercial hub, Blantyre, has recorded most of the deaths, 158, including dozens of children.
The government has declared a state of disaster in 10 southern districts that have been hardest-hit by the storm.
Rescue workers are overwhelmed, and are using shovels to try to find survivors buried in mud.
Officials at the main referral hospital in the city said they could not cope with the sheer number of bodies that they were receiving.
They appealed to bereaved families to collect the corpses for burial as the hospital's mortuary was running out of space.
The government's disaster relief agency said the death toll had risen from 99 on Monday to 190, while about 584 people were injured and 37 were still missing.
More than 20,000 people have been displaced, it added.
The storm has also crippled Malawi's power supply, with most parts of the country experiencing prolonged blackouts.
The national electricity company said it was unable to get its hydro-power plant working as it had been filled with debris.
The UN and other agencies have warned that the timing of the storm could exacerbate a cholera outbreak – one of Malawi's worst public health crises.
The government has appealed for help for the tens of thousands of people who have been left without food and shelter.
Freddy is the strongest tropical cyclone on record and could also be the longest-lasting one, according to the World Meteorological Organization.
On Sunday the storm struck Mozambique as a cyclone – for the second time in a less than a month – after battering the island nation of Madagascar in the Indian Ocean, causing severe destruction.
It has been difficult to determine the extent of the damage caused in Mozambique and the number of deaths, as power supply and phone signals were cut off in some parts of the affected areas.
Experts says climate change is making tropical storms around the world wetter, windier and more intense.
Freddy had broken records for the strength it accumulated over the 8,000-km (5,000-mile) path it travelled across the Indian Ocean from north-western Australia.
BBC