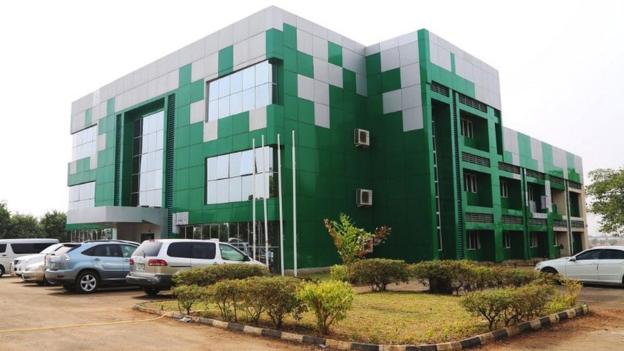 Elections for Nigeria's football federation (NFF) have been indefinitely postponed after the country's High Court issued an injunction against the polls, the recent subject of a bomb threat, because of an ongoing court case.
A court in the Nigerian capital, Abuja, issued the injunction two weeks' ahead of the proposed meeting in Benin City on 30 September.
The High Court ordered the NFF to suspend all poll-related activities because of a case brought against the governing body and its president Amaju Pinnick as well as the country's sports minister Sunday Dare.
The legal action involves a complaint by a body comprising two players' union factions seeking equal representation regarding voting rights within the NFF.
Adjourning until 31 October, Justice Inyang Ekwo ruled that the elections be put on hold until the court case is concluded.
When asked if the elections will be held this month in any case, Dare replied: "I've not really looked at the ruling, but we will be seeking a legal advice before making any comment."
Pinnick, who has ruled out re-election for a third term after taking office in 2014, has refused to comment about the development.
Meanwhile, Dare's sports ministry is investigating a "faceless" group calling itself the Nigeria Football Stakeholders after it threatened to bomb the election venue in Benin City if the planned polls went ahead.
"The letter came to the ministry," a spokesperson for the sports ministry told BBC Sport Africa.
"It's such an unfortunate situation from this faceless group and the matter is being treated as very serious."
The group said that, because of the "atrocities committed by the current (NFF) board", the election should be "stopped till such a time when all reforms are carried out".
"Refusal to adhere to our warning will be met with very serious consequences," stated the letter. "We will not hesitate to bomb and bring down the venue of the election and blood will flow.
"Your agreement to the cancellation will save the lives that are supposed to be lost."
The sports ministry spokesperson told the BBC the letter, which comes against a backdrop of insecurity involving terrorist groups and bandits in Nigeria, has "been handed to the right authorities".
BBC Sport Africa understands that the letter, dated 7 August, was received by the sports ministry on 11 September, whereupon it was passed onto Nigeria's anti-terrorist forces.
BBC