The popularity of language-learning apps has boomed around the world during the coronavirus lockdowns, and the UK has, somewhat surprisingly, led the way.
For a country not renowned for its population's skill or enthusiasm at learning a foreign language, the Covid-19 pandemic appears to have seen many more Britons try their hand at becoming at least a bit bilingual.
With lockdowns limiting what we can otherwise do with our leisure time, people have been downloading apps to swap their "hellos" for a "buenos días", "bonjour" or "guten tag".
Londoner Chelsey Hames started using language app Duolingo to learn some French last year.
After a few months, the 33-year-old says she "could suddenly read blocks of French text".
"While I can't translate word for word, I can now get the idea and sentiment behind the writing. It is absolute magic."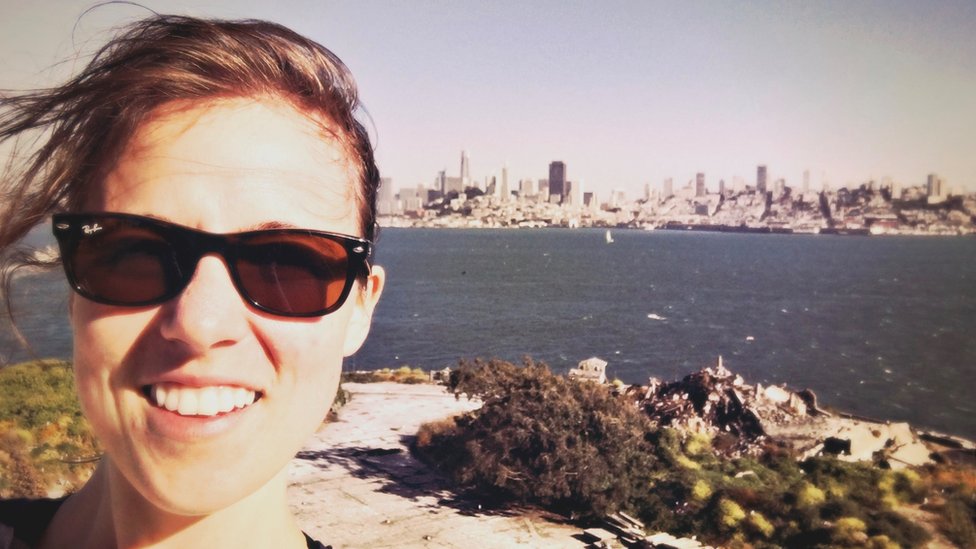 US firm Duolingo says that its new user numbers soared in 2020, especially in the UK. It says that globally they were up 67% compared with 2019, while in the UK they shot up by 132%, almost double the worldwide average.
"The UK has really embraced language learning during the pandemic," says Duolingo's UK manager Colin Watkins.
Prior to Covid-19 he says the biggest reason British users said they wanted to learn a language was for travelling overseas. But with global travel mostly curtailed, people were now learning because of other factors.
"Since Covid there's been a huge increase in people wanting to learn for a whole variety of reasons – whether that is for [helping with] school, brain training or culture. We have all wanted to do something positive with our time."
For the app's now 13 million UK users, Spanish remains the most popular language that people want to learn, followed by French.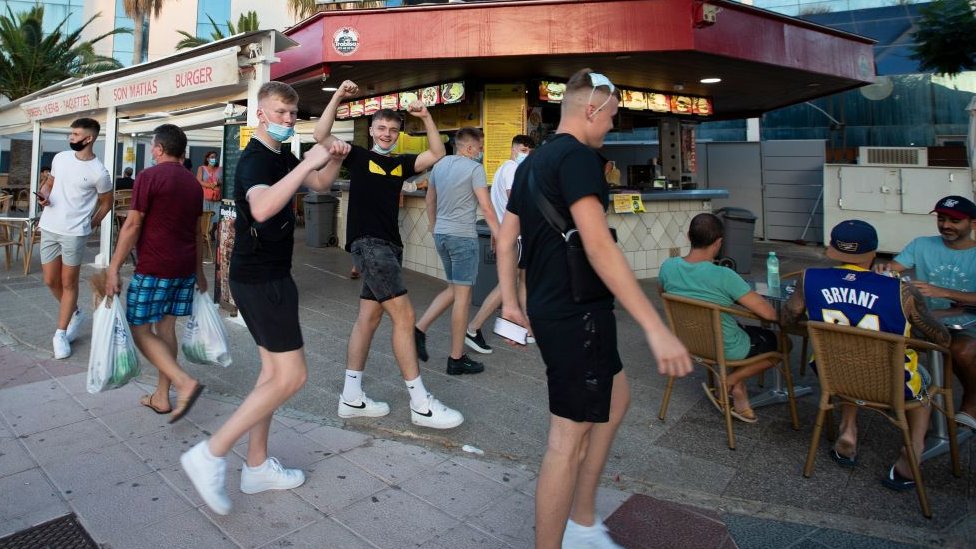 Other language apps have also seen big growth.
London-based Busuu says that while its active global user numbers tripled last year, numbers in the UK rose more than fourfold (312%). It now has more than three million UK users.
Meanwhile, Berlin-based Babbel says its UK user registrations increased by 80% in 2020, compared with a 50% rise worldwide. It now has 10 million customers globally, but did not release a figure for the UK.
What Babbel did say is that its data shows that Britons are actually much better at learning a foreign language than their reputation suggests.
"When a lot of Brits say that they are not very good at language learning, that's the first thing that we don't see in our data," says Babbel's chief executive Arne Schepker.
"[For Britons], both learning engagement and how much you learn – how easy you find it to build a learning habit, the amount of mistakes and the amount of progress that you make through our material – is absolutely competitive in the international environment."
He adds that Spanish is now the most popular language for its UK users, overtaking French. And that the new top reason why people have signed up is an interest in language learning and other cultures, which has overtaken travel.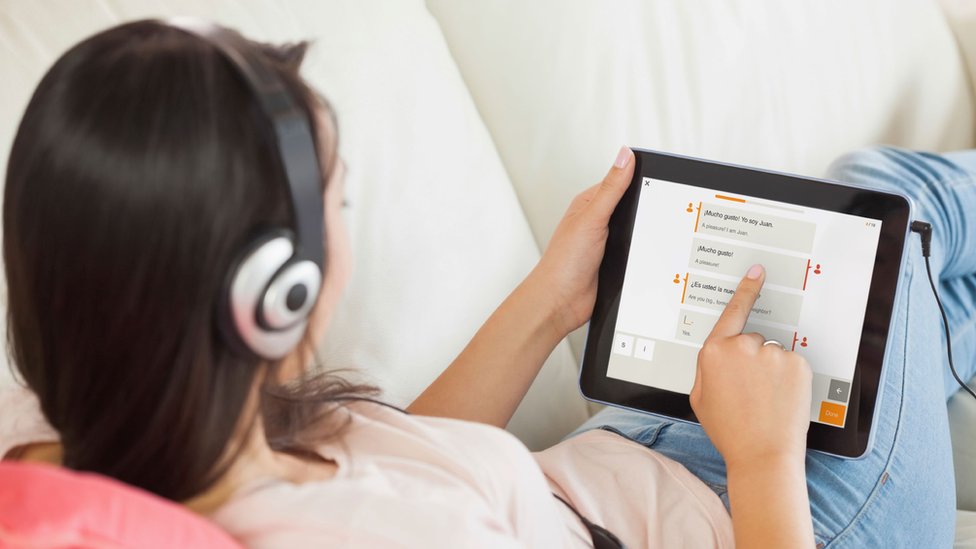 But why are more British people now learning a new language compared with the global averages?
Duolingo's Mr Watkins says there may have been a cultural change. "The UK now sees real value in learning a language for fun, not because they have to," he says.
"People are learning because of culture, brain training, family, and relationships, along with school and travel. We want a positive use of our time, and to do something productive on our phones. Covid gave people the stimulus to do this."
Maria Lievano, a Spanish teacher based in the UK, thinks that Brexit may have also played a factor.
"It is possible that Brexit may have played a part in why the UK, in particular, saw so many people using these apps," she says. "Particularly those who want to give themselves the opportunity to work in, or do business with, other countries now Britain has left the EU," she says.
"So with many people at home furloughed, or redundant, this period gave them time to evaluate their future career options, whether to look for work abroad or to improve their skill set.
"And for others, perhaps learning a foreign language is simply a way to dream of the holiday they can't go on due to the pandemic."
While Duolingo and Busuu both offer free and paid-for premium versions, Babbel is only free for the first week. All three have put a lot of work into their software to try to make the learning process as effective as possible. But are they actually any good? How proficient can people get in another language by using them?
Renowned linguist Stephen Krashen, professor emeritus of the University of Southern California, is not very complimentary.
"My analyses of their results show that they achieve the same mediocre results as traditional methods do in regular classrooms, and produce the same lack of enthusiasm from students," he says.
"We don't acquire language by speaking or writing, even when we get our errors corrected. Rather, the ability to speak and write fluently and accurately is the result of language acquisition via comprehensible input, such as good books, movies and interesting stories."
Busuu's co-founder Bernhard Niesner admits that "the best way to learn a language is to be in the country, and be fully able to speak with native speakers" but says that "we want to replicate that with Busuu".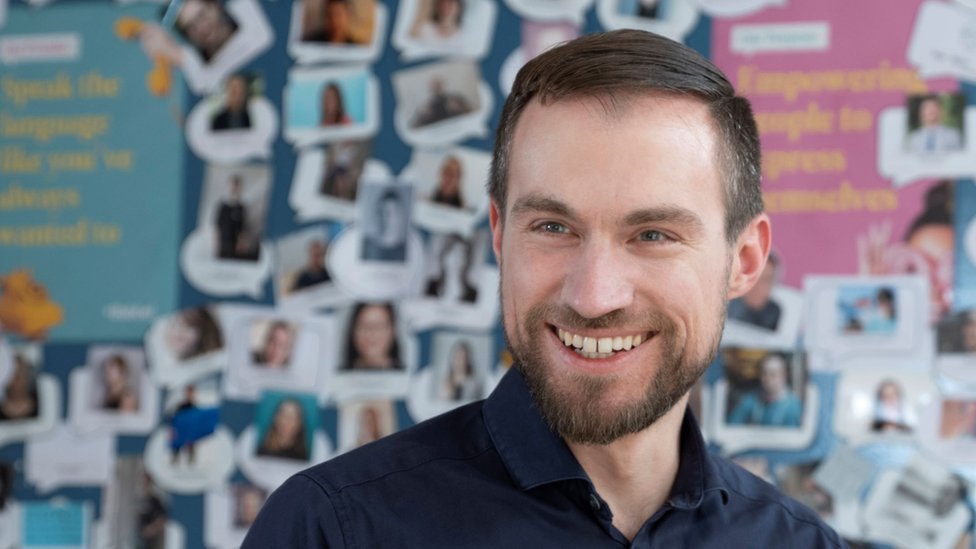 He adds that he believes the popularity of language-learning apps is here to stay.
"We think that this is going to sustain because a lot of people now, for the first time, have used their mobile phone to learn something, and they understand the benefit of it," he says. "It's super flexible, it's personalised, it's much cheaper maybe than traditional learning."
French learner Chelsey Hames says: "There is something about learning and speaking more than one language that I think brings the world a little closer together."
"And it feels good to be a part of that, particularly in our current situation."
BBC